As most of you know the middle east are coming in hard, the Israeli-Pakastian conflict is affecting the world as we know it.
Believe or not, Palestine are using their own people as human shields thus making Israel become the enemy globally.
This can lead to World War 3.
As well, prophecies in the bible are come true..
  Psalm 83 Keep not thou silence, O God: hold not thy peace, and be not still, O God.
2 For, lo, thine enemies make a tumult: and they that hate thee have lifted up the head.
3 They have taken crafty counsel against thy people, and consulted against thy hidden ones.
4 They have said, Come, and let us cut them off from being a nation; that the name of Israel may be no more in remembrance.
5 For they have consulted together with one consent: they are confederate against thee:
6 The tabernacles of Edom, and the Ishmaelites; of Moab, and the Hagarenes;
7 Gebal, and Ammon, and Amalek; the Philistines with the inhabitants of Tyre;
8 Assur also is joined with them: they have holpen the children of Lot. Selah.
9 Do unto them as unto the Midianites; as to Sisera, as to Jabin, at the brook of Kison:
10 Which perished at Endor: they became as dung for the earth.
11 Make their nobles like Oreb, and like Zeeb: yea, all their princes as Zebah, and as Zalmunna:
12 Who said, Let us take to ourselves the houses of God in possession.
13 O my God, make them like a wheel; as the stubble before the wind.
14 As the fire burneth a wood, and as the flame setteth the mountains on fire;
15 So persecute them with thy tempest, and make them afraid with thy storm.
16 Fill their faces with shame; that they may seek thy name, O Lord.
17 Let them be confounded and troubled for ever; yea, let them be put to shame, and perish:
18 That men may know that thou, whose name alone is Jehovah, art the most high over all the earth.

CaliKid

Soldier




Number of posts

: 348


Registration date

: 2012-10-20


Location

: The BIG IE



Very unfortunate.

Me personally, I'm not a big fan of the Israeli government..the American media support for Israel is beyond biased and way over the top.

But in reality there is no good side here. Ridiculous how irrational most of the world really is. Bullshit statism and collectivist ideology mixed with ancient religious beliefs makes rational negotiation and peaceful solutions impossible..

Too bad because all the hatred is aimed towards the US for being so involved and supporting sides.
This can easily get turned into a global war. By all the arab-nations turning against Israel.

We're talking about most of the middle east including Russia, 

On May 14, 1948 is when Israel became a nation and when they did they were greatly unnumbered and manage to claim most of their turf.


Hamas are actually the bad ones here and are very religious in their religion.
Israel are simply defending themselves. Religion can't save mankind.

CaliKid

Soldier




Number of posts

: 348


Registration date

: 2012-10-20


Location

: The BIG IE



Well Israel is pretty religious itself and is also a somewhat fascistic socialist state.

I don't think any real developed countries will do much to Israel militarily, because Israel has all the nukes and is backed by the US 100%.

Seeing that Israel most likely created Hamas and wants to expand its territory regardless of how many Palestinians are killed, I have a hard time seeing them as purely the good guys defending themselves.
HAMAS Publicly Executes 11 Israeli Citizens For Alleged Spying
Children were brought out to watch the killings as well.  These are the animals the progressive liberals of the world demand Israel not defend itself against…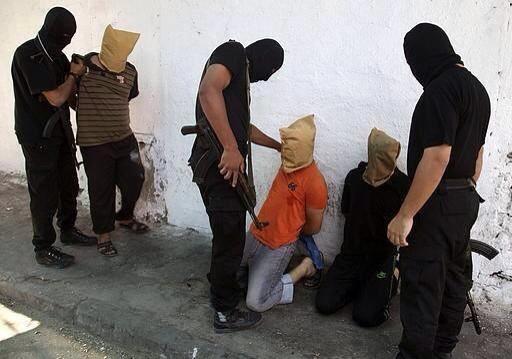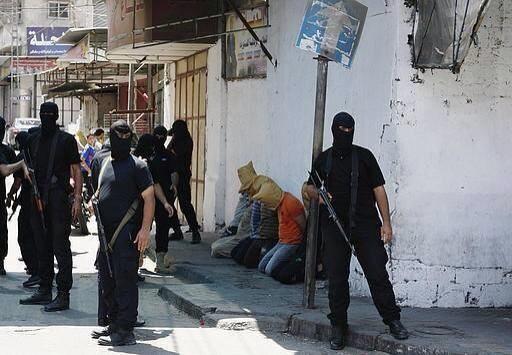 The alleged spies were lined up against a wall with their hands and feet bound, their faces covered, and then shot in the head as a crowd gathered to watch

CaliKid

Soldier




Number of posts

: 348


Registration date

: 2012-10-20


Location

: The BIG IE



Some light reading...
http://www.cracked.com/quick-fixes/4-tactics-gazas-propaganda-war-stole-from-online-trolls/
This conflict is on hold.

They are on a cease-fire.

CaliKid

Soldier




Number of posts

: 348


Registration date

: 2012-10-20


Location

: The BIG IE



That's a temporary relief in a long term problem.
Of course there's a cease fire the u.s. needs time to help supply Israel with more weapons. That's why politics bore me. We never know what's really going on..

Forum Gawd

Boss




Number of posts

: 4793


Registration date

: 2009-09-16


Age

: 24


Location

: Athol Street Nd Hemlock.!!!



Similar topics
---
Permissions in this forum:
You
cannot
reply to topics in this forum