The Sun did an article on gang insignia and graffiti in San Bernardino and other areas of socal in 1991.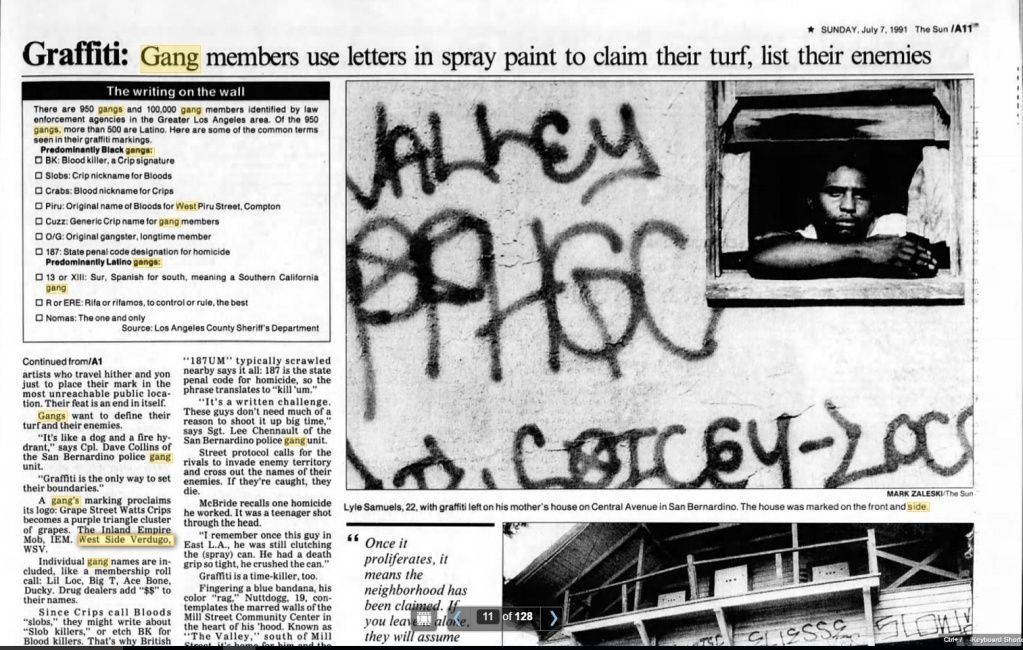 Is this all from the Sun website or somewhere else?
Nevermind. Found all this shit already
I've found articles and even some pictures relating to all kinds of gang history in IE.

Rialto and SB articles talking about the growth of Crips and Bloods in the cities. The "playboy styles Crips" off meridian as they call it which i assume became 5x.

One article talks about an SB police officer in the late 80s who got caught spray painting blood graffiti on walls in order to disrespect WSV MVR and instigate a gang war.

Another article about a shoot out involving Verdugo Flats and Corona Scarlets gang in 1980 when the Scarlets attended a party in the heart of the Flats hood, at least two people died and more were shot/injured.

Pictures from peace talks between Colton and Verdugo gangs.

Articles about the beginning days of South Fontana and mentions of their feud with North Fontana. Even found an article about Chino Sinners riding to South fontana in 1977 and blasting in several people in Boyle ave.

Of course there's even articles on Chino sinners war with Pomona 12st and Chino Vs Black Angels.

Lots of Cucamonga Kings mentions. Probably the easiest gang to find as they seem to have been one of the most active and violent gangs back in the days, believe it or not. One article claims that there's been up to seven murder in one year in CKS hood which is a lot for such a small area. A 1965 article talks about Cuca Kings kicking Corona Varrio Locos our of their city one day and Corona came back to attack later.
---
Permissions in this forum:
You
cannot
reply to topics in this forum